Plaid Class Action Settlement Pays $35.97 Per Person
Updated: May 28, 2023
Settlement Status - Paid Out
Deadline:
Passed
Estimated Payout: $35.97
Proof required: No
Method of payment: Paypal / Direct Deposit / Venmo

**Plaid Class Action Settlement payments have been reported as of November 2022 in the amount of $35.97 - Check your Emails, Venmo and PayPal for Notifications about Class Action Cash**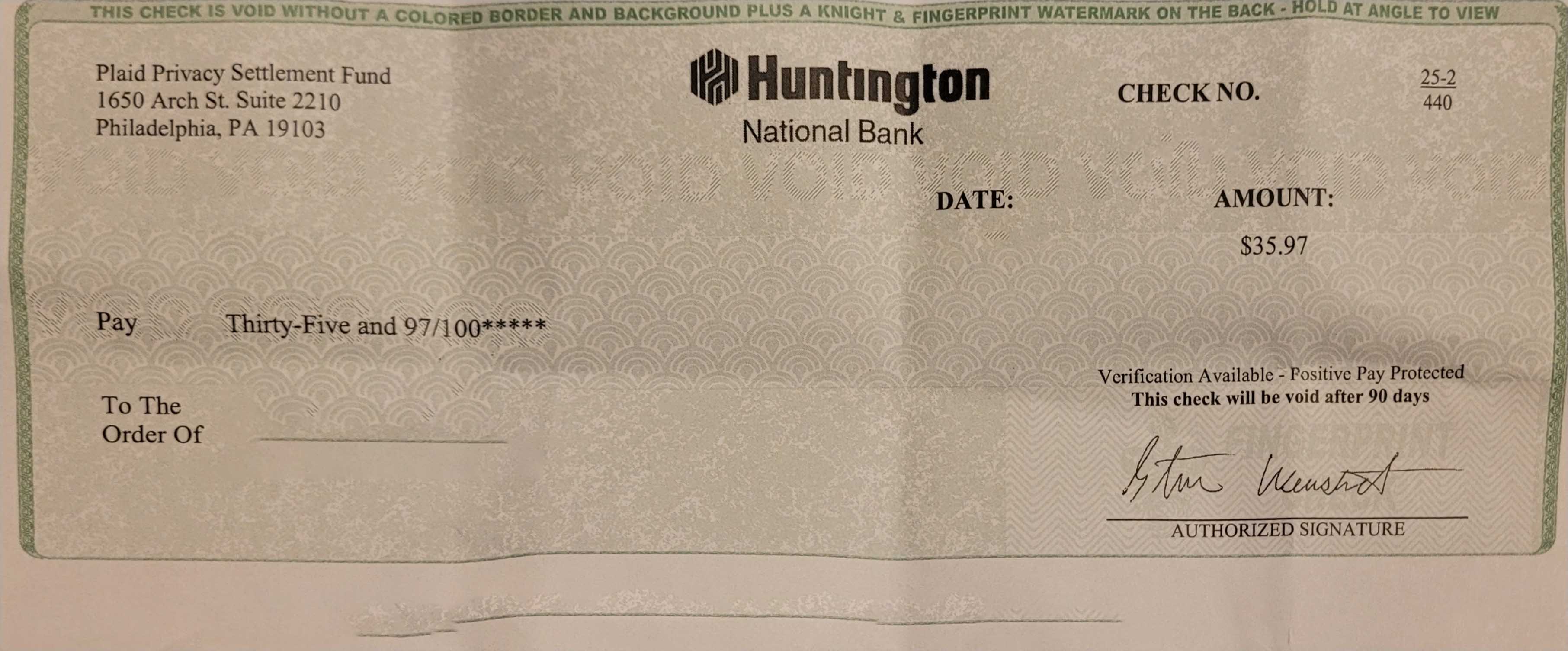 Update on the Plaid Settlement - Second Chance Payment
Consumers that qualified for the original $35.97 payment for the Plaid Class Action Lawsuit are reporting that they are receiving notifications by email and mail that they have a second chance offering to receive funds they are entitled to in the form of:

• Venmo
• PayPal
• Direct Deposit




Contact the Plaid Class Action website administrators if you have any additional questions here.


What's This Settlement About?
A $58 Million Settlement has been paid out to users and customers of Plaid Inc. ("Plaid"). Consumers are reporting $35.97 payments in their inboxes, PayPal accounts and Venmo statements. The original Plaid class action litigation was against the defendant, Plaid, which integrates with approximately 5,000 mobile and web-based financial apps ("apps").

The financial apps use Plaid to enable users to connect the app to the users' bank account(s). Some of the top bank accounts in the United States use Plaid to allow banking customers to connect between different financial services. The Plaid Class Action Lawsuit alleged that Plaid took certain improper actions in connection with this process. Plaid agreed to pay out $58 Million to settle the claim out of Court, without admitting to any wrongdoing.

The allegations behind the Plaid Settlement and lawsuit include that Plaid:

• Obtained more financial data than was needed by a user's app, and
• Obtained login credentials (username and password) through its user interface, known as "Plaid Link," which had the look and feel of the user's own bank account login screen, when users were actually providing their login credentials directly to Plaid.


Final Approval and Payout Date of November 17, 2022
The Plaid Settlement is closed and has paid out.. Judge Donna Ryi, a judge for the US District Court in Northern California granted final approval for the $58 Million Class Action agreed upon with Plaid, Inc. More than a million consumers filed claims in the Plaid Class Action (see website below) to receive compensation from the $58 Million settlement fund.


What Happens Next with Plaid?
While the Plaid Settlement has already been approved and is paying out to class action members that filed timely and valid claims.


How Do I Find Class Action Settlements?
Find all the latest Class Action Settlements you can qualify for by getting notified of new lawsuits as soon as they are open to claims:


What's Next After Approval?
Class actions generally take some time to process claims and pay them out after final approval motions are granted by the judge in the case. The waiting period allows for any potential appeals to come through against the ruling made to approve the settlement agreement. This period of time can vary depending on many factors, but by some estimates can last as little as 30 days or be longer than 90 days. For Plaid, the waiting game was in the months, rather than years as is the case in many other class action settlements post-approval.


What Can I Get?
The Plaid Settlement established a $58 million Settlement Fund, to be used for cash payments to Class Members who submit valid claims for compensation, after deducting the costs of the settlement administration, court-approved attorneys' fees and expenses, and Service Awards for eleven Class Representatives. The amount of monetary payments issued was reported to be $35.97 from the $58M slice of settlement pie.


How Do I File a Claim?
The deadline for submitting a claim was April 28, 2022. Final approval was granted in July 2022 after which the Plaid class action settlement did not accept any more claims. Continue to follow OpenClassActions.com for updates to Plaid Settlement, similar financial and data breach lawsuits, as well as other consumer class actions and recalls to qualify for cash, vouchers, and rebates.